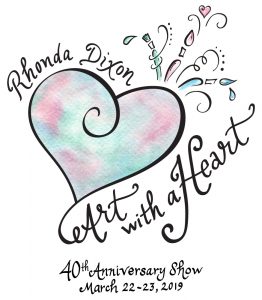 I hope you'll join us as we honor and admire the art that has and still inspires so much heart in our community. I can't wait to showcase my students' artwork that spans the last forty years.
As a 2019 Saint Patrick's Official Event, the free two-day show will begin on Friday night, March 22 from 5-8pm with an Opening Reception to honor all artists and guests. The show will continue on Saturday, the 23rd from 10am-5pm with a full day of fun, family, and friends. Please join us as we transform Liberty Baptist Church (900 Hillcrest Parkway, Dublin, GA 31021) into Dublin's largest art exhibit.
Friends and Guests: If you would like to order an Art with a Heart T-shirt, please use the Order Now link below
Former and Current Students: As part of the show, I would like to display two paintings from each and every one of you. Please click on the Student Sign Up link for more details. You will also have the opportunity to register for T-shirts as part of your sign up.
If you have additional questions, contact me:
rhondadixon.artwithaheartshow@gmail.com
(478) 278-3048.